We're a Proud SawStop Distributor
There's just no getting around it: cutting wood can be dangerous, especially when it's done with high-powered, fast-moving saws. According to studies, there are more 60,000 table saw injuries every year, and thousands of people lose fingers to table saws annually.
Many people just assume that these risks come with the territory of using table saws, but it doesn't have to be this way. A company out of Oregon is changing the industry and making woodworking safer for everyone with SawStop, and we're proud to be their latest distributor.
View the SawStop Table Saw here!

What Is SawStop?
SawStop is a type of saw that instantly detects contact with skin and shuts off before serious injury can occur. How fast does this happen? In less than 5 milliseconds, SawStop can differentiate between contact with wood and contact with skin, immediately stopping the blade.
The first SawStop was released in 2004, and in 2017, the company shipped its 100,000th saw. And during that time, countless injuries have been avoided.
How Does SawStop Work?
SawStop blades are equipped with small electrical signals which can detect contact with the human body, due to its conductive nature. The instant the electrical signal changes due to contact with skin, it sends a signal to the saw's safety system, which activates.
The safety system then activates an aluminum brake, which is immediately inserted into the spinning blade, causing it to come to a complete stop in less than 5 milliseconds. And the blade doesn't just stop—it's also driven beneath the table, which further reduces the risk of skin contact and injury. Finally, the motor itself is powered off, rendering the saw harmless to the user or anyone nearby.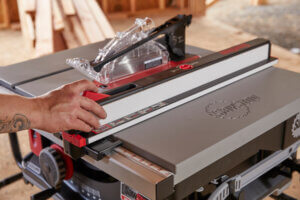 Monitor & Detect
The blade carries a small electrical signal.
When skin contacts the blade, the signal changes
because the human body is conductive.
The change to the signal activates the safety system.
Brake Activation
An aluminum brake springs into the spinning blade,
stopping it in less than 5 milliseconds!
The blade's angular momentum drives it beneath the
table, removing the risk of subsequent contact.
Power to the motor is shut off.
Reset
Resetting the saw yourself is easy. Simply replace
the blade and affordable brake cartridge and your
saw is operational. The entire reset process takes
less than 90 seconds
Enhanced Safety Isn't SawStop's Only Feature
You might be tempted to assume that SawStop is a "gimmick" blade that's only good for safety and not so good for woodworking, but you'd be wrong! SawStop saws use high-quality components, and they're designed by teams of woodworkers and engineers working in tandem to create incredibly safe saws that don't sacrifice performance, efficiency, or accuracy.
In addition to being built with top-notch components, SawStop products are also supported by world-class customer support. The company personally answers phone calls from its headquarters in Oregon, where representatives are standing by to help via phone calls, emails, and live chats.
Byler Industrial Tool Is Committed to Safety
At Byler Industrial Tool, we sell many products designed to make woodworking and metalworking more efficient and productive for hobbyists and commercial users, but we also believe in keeping our customers safe. We have a selection of safety-related products for sale, including back supports, eye, ear, and head protection, hand protection, harnesses, and more.
SawStop is just the latest in products we offer that can reduce or eliminate the risk of serious accidents and injuries. Interested in making your woodworking experience safer for you, your employees, your friends, and your family members? Call to order SawStop today!
Current Inventory:
[product_category category="sawstop"]