If you're looking for the ultimate in convenience, portability, and affordability in your woodworking business's adhesion processes, look no further than the CBC Portable Edgebander.
All experienced woodworkers know how important the edgebanding process is when delivering finished products to customers. High-quality work results in clean lines and pleasing finishes, while low-quality work is often jagged, irregular, and inconsistent across the surface of a finished product.
With our CBC Portable Edgebander, you'll have peace of mind knowing that the job will be performed correctly and just the way you want it, saving you time and money, while also reducing your turnaround times for orders.
Specifications of the CBC Portable Edgebander
Want to know more about this powerful and high-quality edgebanding device? A few important specs that woodworkers should know about it include:
Works with a variety of materials – The edgebander can be used with materials such as PVC, ABS, paper, and wood veneer.
Has a wide range of edgebanding thickness – This machine is capable of producing edgebanding thickness between 3 mm and 3" wide, giving you significant control and creativity over the edgebanding in your products.
Controlled with a digital temperature control – The temperature of the edgebanger can be adjusted from 120 degrees Celsius to 220 degrees Celsius. In addition, the required glue—15 pounds of which come with the machine—works between 150 degrees Celsius and 180 degrees Celsius, while the machine reaches desired heat settings within 15 minutes.
In addition, it's also designed for a fast and easy setup process, and its retractable feet make it easy to move around your shop, to other facilities, or into storage when necessary.
We're Proud to Supply Woodworkers throughout the U.S.
Need sharpening services or new parts and equipment for your metal or woodworking business? Byler Industrial Tool is ready to help you get what you need and take your business to the next level. Contact us today!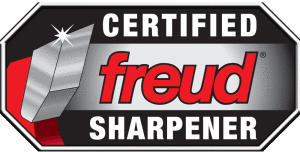 Byler Industrial Tool is the ONLY Freud Certified Sharpener in the state of Tennessee.